You'll love our sushi restaurant for its great food and inviting atmosphere.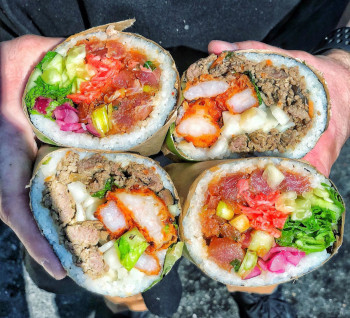 Looking for a place to eat lunch or dinner? Sushiōki® has been in the Durham, North Carolina area for a few years now, and you might say we're a bit of an offbeat sushi restaurant, since we don't serve traditional sushi or sashimi. Our specialty is sushi burritos, sushi rolls that are more than double the size of their more traditional counterparts and include only the freshest, hand-cut ingredients.
From sushi-grade salmon and tuna to Korean chicken and beef, as well as vegetables, our sushi burritos and Hawaiian poke bowls are packed with love and great flavors. Yes, ours is a bit of an offbeat sushi restaurant, but we deliver on the flavors and customer service.
Come visit us or contact us to learn more about our sushi restaurant. We're happy to provide catering, delivery, or takeout and answer your questions.
---
At Sushiōki®, our sushi restaurant serves those from Durham and Research Triangle Park, North Carolina.